Christmas is approaching fast and I just realized something: I'm completely broke (~_~); Due to Black Friday sales, I waisted all my money on building a new PC, so I have no money left for goodies, presents for family members, and probably even this month's rent...*sniff* So hence the word "wish" in wishlist. I only wish I could afford to buy any of these upcoming figures. I laugh at how I could spend browsing Hobby Search for hours, listing my favorite figurines I'd like to own one day. I thought I'd share with you which ones they are.
Which figures are on
your
Christmas wishlist?
Dark Magician Girl by Kotobukiya
This one needs no explanation. Just look at her! This is an amazing sculpt. Her pose is alluring and cute. She's animated and has a lot of personality. Her colors are vibrant, making it almost hard to get your eyes off her. Plus, she comes with another facial expression and a Kuribo keychain. As a Yu-Gi-Oh fan and Spellcaster deck owner, I instantly fell in love with her. She's already up for pre-orders and is at a scale of 1/7 priced for 68,000 yen. Her release date is March 2011.
Dead Master by Good Smile Company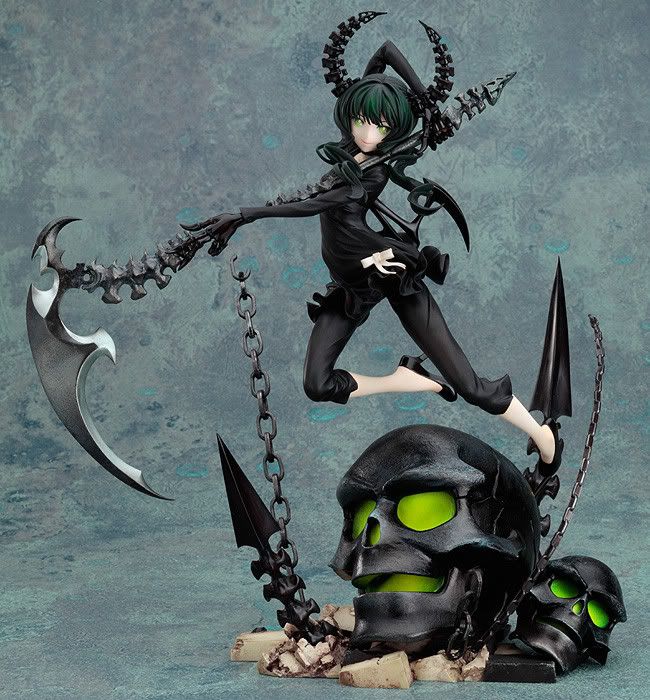 Dead Master from the Black Rock Shooter Project looks absolutely amazing as this figurine. It is the "animation version" for a reason. She is frozen in time in the middle of a jump, which is beautifully displayed. The ruffles in her dress and movement of her legs shows this "animation" perfectly. Seems like she's in a rush, but still has enough time to give quick smile to her audience. The base holding her up is another thing to note. Her skull minions are very well detailed. The spikes and chains shooting upwards from the broken checkered floor bellow her just add to the charm. She is 1/8th scale at around 9,334 yen. Already up for pre-orders, the figure is scheduled to be released on March 2011.
Senjougahara Hitagi by Good Smile Company
From the anime Bakemonogatari, this lovely figure is based straight off of the anime's
official art
. This pose is truly unique. She has her back turned from the viewer, rarely seen in figurines, and a lifted skirt with several various 'sharp' objects dropping to the floor. This is where the real charm is. The school supplies look almost as if they are magically suspended in the air. This is amazing craftsmanship and creativity on the sculptor's behalf in order give out this "optical illusion" so to speak. It also defines the character well, displaying her secretive nature with a smirk and turned back. I REALLY want this figure X3~ She is a 1/8th scale figure around 9,334 yen at Hobby Search. I heard she was originally scheduled to come out October 2010 but was delayed to January of 2011. Wonder why...
Nendoroid Kirino by Good Smile Company
Oreimo has become quite the popular anime this season and I must admit, I couldn't resist it either. Kirino is now a Nendoroid thanks to our friends Good Smile Company, and she's also made my wishlist. I absolutely love the way she looks, and with so many pieces and expressions to play with, I could imagine all the fun I'd have if I owned her. Kirino is around 3,334 yen and scheduled to come out Feburary 2011.
figma Mirai by Max Factory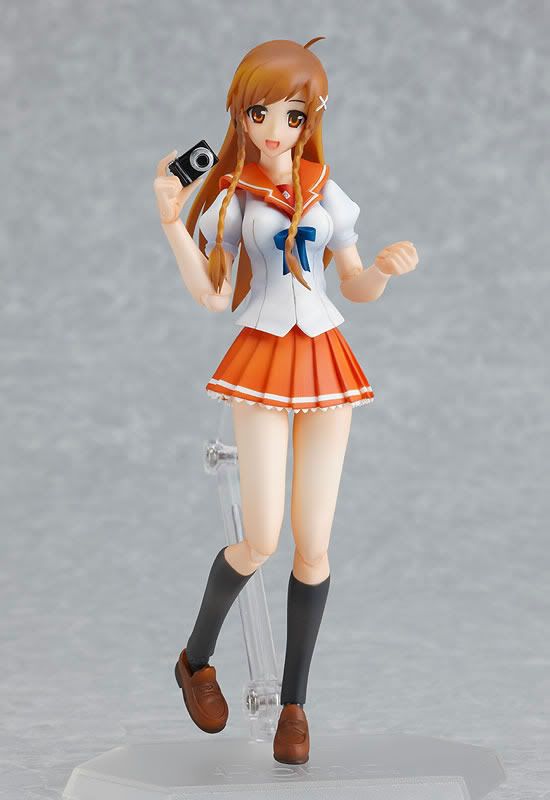 At last, Danny Choo's mascot character Mirai has been created into a figma and she looks great! I'm normally not a fan of figmas, but if I was to ever own one, she would be the one. She comes equipped with several pieces, such as a small digital camera, a laptop, and a mini dollfie of herself for her to hold on her arm. She's just like Danny! I love all the possible poses you can make her do and as a fan of Danny Choo, I'd really like to own one myself. I'm also looking forward to a Nendoroid version of her. Let's hope it comes true! Mirai is scheduled to come out June 2011 costing around 2,667 yen.